Auction for Climate Action
What is 'Auction for Climate Action'?
Auction for Climate Action is a charity initiative for our climate, generating donations by auctioning art & design for climate protection projects.
The auction takes place primarily on respective posts on Instagram and will additionallly be displayed here in the posts, on Facebook and on LinkedIn so that others can bid as well, depending on the contact option of the of the artist or designer.
More categories are to follow.
How does it work?
Artists or designers can offer a work of art or object for auction without further fees. Anyone and everyone has the opportunity to bid for these works and donates incidentally for our climate.
With this form of auction, everyone involved benefits! A work of art or design object finds a new home and the lucky owner reimburses the artist and donates for climate protection measures.
The works are carefully curated with expertise.
For all payments, please note the reference "AfCA, date of auction" so that NGOs know it is auction proceeds. Thank you!
The general terms of use and data protection provisions apply.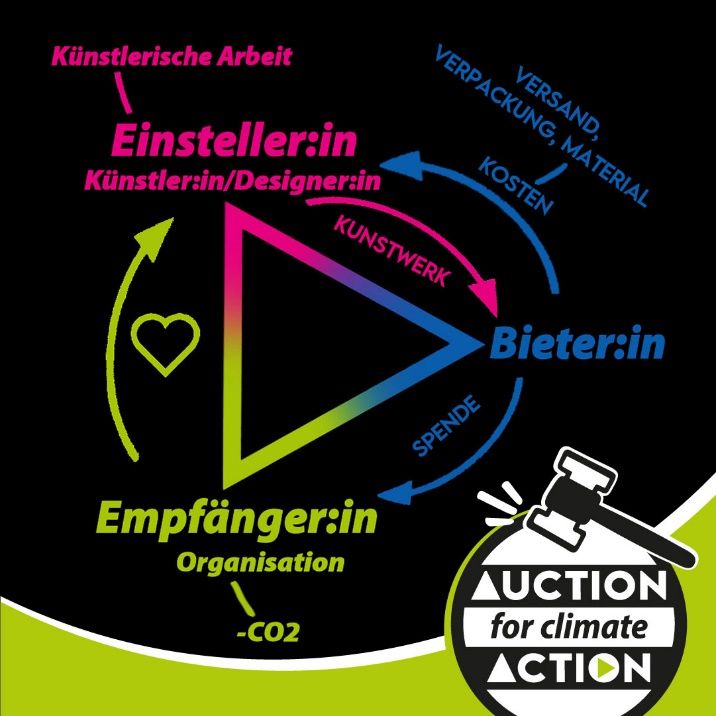 ---
What happens to the proceeds?
100% of the proceeds will be donated to non-profit organizations active in climate action and selected by the advertiser – the only condition is that they are generally recognized and cooperate with Auction for Climate Action. Measures for species protection and environmental protection are part of the climate protection projects, they are interdependent.
This means that every euro goes to a good cause. Along the way, the artists get the opportunity to make an even bigger impact with their art. The bidders will forever associate a special story with the artwork.
There are no further costs. Climate protection is a matter close to our hearts, which is why Art & Design is offered voluntary without any fees. The transaction takes place directly and without any detours between the advertiser and the bidder. The proceeds will go entirely and directly to the organization selected by the adjuster.
Cooperating nonprofit organizations:

More information for artists and designers
Professional or semi-professional artists, designers, artisans, and the like are welcome to donate their self-created contemporary works – there are no limits to creativity. Packaging, material & shipping costs will be reimbursed by the bidder.
All creative interested can best reach us on Instagram via DM. Please tell us the name of your of the work, the estimated sales price (if it would be sold normally), the e-mail address and send a photo of it. Everything will be kept confidential and will not be shared.

If all goes well, we'll send a small question list to fill out and in the end post the work with the description list, square image(s) and appropriate hashtags. We are also happy to receive other square images, for example with portrait or text, to publish them with. You should then also publish/share the post everywhere. You would have to reply to requests or comments and write the current highest bid (if it came via DM or otherwise and not already in the comments) in the comments. If you change your mind, you can always back out.

Please choose only high quality artwork or design objects. They can also be older, as long as they are not in a used condition. The minimum bid includes the cost and at least 50€ donation. The total amount of the minimum bid should be about 1/2 of the normal selling price. Sets can also be offered with pleasure to reach the height. Should also a set from the crafts or similar not come to the height, the minimum donation is 20 €. Please respect the copyright – the work must be yours. Likewise, the photos must be also by you or you have the full and transferable right of use for them. A print-on-demand offering is possible.
Minimum donation (from 50 € (20 €)) + shipping + material/packing = minimum bid (= 1/2 selling price)
Print-on-Demand
There is an opportunity to offer print-on-demands of art prints on paper and canvas. Since prints can be multiplied, they are not auctioned. For this, each print is limited to 20 pieces and has a time limit of 2 months.
The donation will of course be made directly to the climate protection organization and will be €30-80.
The printer sends directly to the new owner:inside. It is carefully selected, is carbon-neutral and produces as sustainably as possible on recycled products.
This offer opportunity is especially for photographers:inside, illustrators:inside, digital artists:inside and those from far away. But all others are also welcome to join and apply briefly with the images via DM.
This is what the print-on-demand offer looks like:
Lightfast, environmentally friendly colors

Canvases made of 260 g SEAQUAL® YARN (100% recycled plastic, partly from the sea) with 32% less CO2 emissions, OEKO-TEX® STANDARD 100 and Global Recycle Standard, wedge frame depth 2 cm, 3:4 format or

Solid matte 300 g posters made of 100% recycled paper with Blue Angel eco-label, slightly more elongated format

2-3 works of one artist per offer

 

 

 
Sizes and variants (printing price > artist + donation > NGO = final amount):
Poster:
1) DIN A3 (29,7 x 42 cm): 28 + 30 = 58 €
2) DIN A2 (42 x 59,4 cm): 28 + 35 = 62 €
3) 50 x 70 cm: 28 + 40 = 68 €
Canvas:
4) 30 x 40 cm: 40 + 40 = 80 €
5) 60 x 80 cm: 63 + 65 = 128 €
6) 75 x 100 cm: 77 + 80 = 157 €
Alternatively, square formats are possible. 10 € artist fee for the order are included. For each additional work of an order can be deducted 10 € each.
Delivery time from the printer after paid order: 4 working days.