Auction for Climate Action
Auction for Climate Action is a voluntary initiative for our climate, generating donations by auctioning art & design for climate protection projects.
The auction takes place primarily on respective posts on Instagram (following buttons) and will additionally be displayed here in the posts, on Facebook and on LinkedIn so that others can bid as well, depending on the contact option of the of the artist or designer. In addition, donation income is possible via Live-Events.
How does it work?
Artists or designers can offer a work of art or object for auction without further fees. Anyone and everyone has the opportunity to bid for these works and donates incidentally for our climate.
With this form of auction, everyone involved benefits! A work of art or design object finds a new home and the lucky owner reimburses the artist and donates for climate protection measures.
The works are carefully curated with expertise.
For all payments, please note the reference "AfCA, date of auction" so that NGOs know it is auction proceeds. Thank you!
The general terms of use and data protection provisions apply.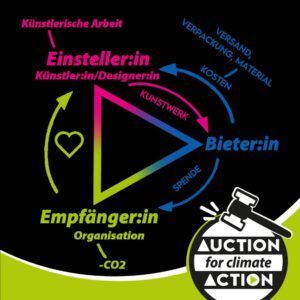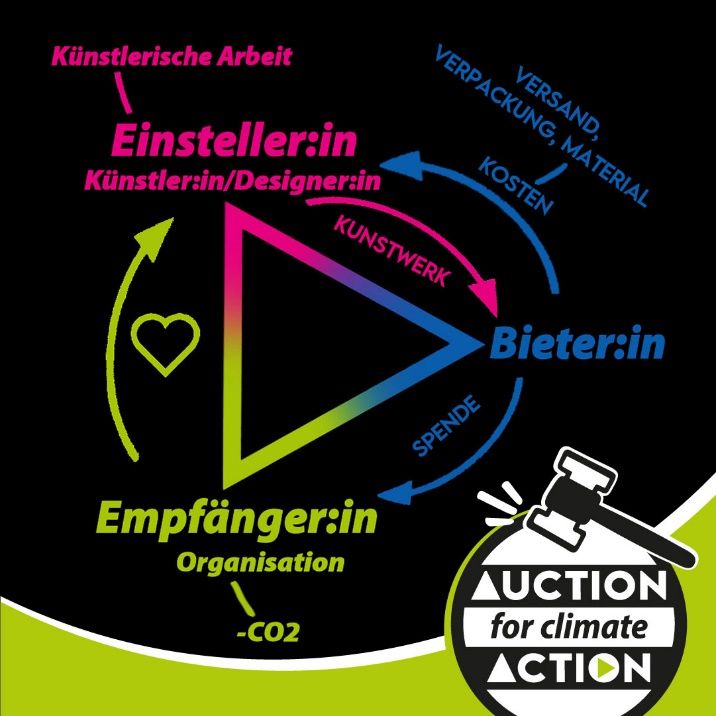 ---
Picture: Art/Design of the bidder > Benefactor > donation to organization for measurements. Plus: Benefactor > reimbursement financial costs of the bidder
Under Protagonists you can find the Artists and Designers. There you can also see which works are still available. In addition, you will find under Protagonists also the Info for the creatives, the Organizations in text and pictures and the new possibility of the Blog for all actors and helpers.
Online entries, memberships, network, publications and mentions can be found on Online & Live appearances. There you will also find information about possible and past live events. Auctions and other things are possible on different events, whereby live donations can be collected. We are currently planning an auction on the Day of German Unity.
Under Team & Contact you can find out who can contact us and where, as well as all those who have helped or are helping with Auction for Climate Action. You may sign up for email notification. We also go into detail about the possibilities to help.
What happens to the proceeds?
100% of the proceeds will be donated to non-profit organizations active in climate action and selected by the advertiser – the only condition is that they are generally recognized and cooperate with Auction for Climate Action. Measures for species protection and environmental protection are part of the climate protection projects, they are interdependent.
This means that every euro goes to a good cause. Along the way, the artists get the opportunity to make an even bigger impact with their art. The bidders will forever associate a special story with the artwork.
There are no further costs. Climate protection is a matter close to our hearts, which is why Art & Design is offered voluntary without any fees. The transaction takes place directly and without any detours between the advertiser and the bidder. The proceeds will go entirely and directly to the organization selected by the creative adjuster.
Cooperating nonprofit organizations:
Five respected and widely recognized Organizations in climate and environmental protection are available for creators to choose from. You can find more about them in the menu link, but in a short listing, these are the ones:
For environmental, climate and consumer protection in Germany and worldwide: Deutsche Umwelthilfe
On a mission to re-green Africa, cool the earth and inspire millions in the process: Justdiggit
Working for the environment worldwide for more than 20 years. For a livable planet for all: Global Nature Fund
To preserve and restore native ecosystems: Bergwaldprojekt e.V.
Climate protection through education: Deutsche KlimaStiftung
This way the successful bidder:s, even at events, can quickly and easily get to the donation pages and donate. We have listed and linked the possibilities here: